November 26 is a bittersweet date for Amrita Raichand. Each year, she is cast back to the events that unfolded 10 years ago today, on the night of her 32nd birthday. It was late Wednesday evening when the former actress turned chef arrived at Mumbai's iconic Taj Mahal Palace Hotel, along with husband, his parents, and a family friend.
Read Also, President, PM, Congress remember 26/11 Mumbai attack
Remembering those who put the nation before themselves. And our salute to the city whose resilience always made its people stronger #RememberingTheHeroes pic.twitter.com/T80KfE6chr

— Mumbai Police (@MumbaiPolice) November 26, 2018
Ten years back, 10 Lashkar-e-Taiba terrorists sailed into Mumbai from Karachi and carried out coordinated attacks that lasted three days. The terrorists carried out bomb explosions and holding innocents hostage as a fight back by security forces continued for the next 60 hours. Taj Mahal Palace hotel, Chhatrapati Shivaji Terminus railway station, Leopold Cafe were targetted in the attack that made headlines across the world.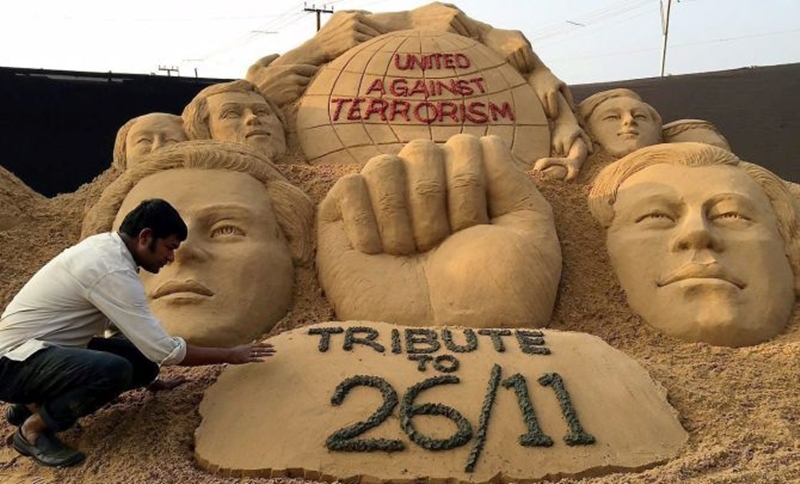 Meanwhile, Maharashtra Chief Minister Devendra Fadnavis and Governor C Vidyasagar Rao and other cabinet ministers pay tribute at the Martyrs' Memorial, Police Gymkhana, on the 10th anniversary of the 26/11 Mumbai attacks.
Salutes the heroes of 26/11, We pay our homage to the 'heroes of Mumbai attack' who sacrificed themselves for defending the Country and the people, Trilok Singh.
Finance Minister Arun Jaitley on the tenth anniversary of Mumbai terror attacks tweeted: "We stand resolute & united against terrorism. Remembering 26/11/2008."
Read Also, 26/11 Mumbai attacks: United State announces $5 mn bounty
U.S. offers a new reward for up to $5 million for information leading to the arrest or conviction of any individual who was involved in planning or facilitating the attack.
We were finishing up dinner and one of my chaps, who wanted to go use the restroom, was stopped by the staff…They told me there was a gunfight going on between two rival gangs downstairs. For safety, they wanted us to stay in the restaurant," Nicholls, the Founding Director of security firm NSA Global and a former consultant to the South African Police Service's VIP Protection Unit.