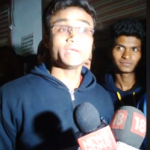 National General Secretary Ram Madhav told me that : "Terrorism is the weakness of the country which promoting you the side which is the target of terrorism has to be fortunate 100 out of 100 times but they terrorist lease to be way only 1 short of 100 times.
It's not just diplomatic response alone, it will be handled in an appropriate manner and no kind of blackmail is going to be tolerated. Nobody wants a nuclear war in the region and nobody will succumb to nuclear blackmailing also,  said Madhav to me 2days ago, days before the attack we neutralised 4 terrorist a few day before that we again neutralised them.
Our analysis: why uri important in the contemporary time
Its a nuclear blackmailing game which is conduct by pakistan. Some indicator indicates there was no intelligence failure this time about such an attack. But our site research indiacates that yes it is but its failure of our defense mechanism because NIA (National Investigation Agency) already find lot of gaps and error in Border area. one more causes is that the Army miliatry camp are near about URI. In fact, it was widely reported last week that there would be "spectacular terror attacks' on India's military bases, though, in the context of the attacks on the Pathankot Airbase in January this year, airbases were under greater alert.
Deya Roy
,

Defense enthusiast, family & friends in Armed Forces & Services (DRDO, INMAS) told me that on QUORA DICUSSION :
In all of the point stated below, we need to keep in mind, US and Russia are busy with their own internal issues. China is an all out supporter of Pakistan and in fact it might try to escalate problems and push us towards war.
"China can use Pakistan as a pawn against India if a war broke out between India and Pakistan, it can provide military aid and much needed economic aid to Pakistan."
Also, the international media is completely convinced of human rights violations by the Indian Government and Forces, as the official figures indicate 9000 people injured by level 6 or 7 pellets used for hunting animals. (The Guardian, NYT, Observer, etc.)
Here are the options before India:
Surgical Strike: A covert strike on terror camps in Pakistan-occupied Kashmir (PoK). But India might run the risk of a full-fledged war with a nuclear state.
Though, if you ask me "In the present scenario where world economy is trembling, a full flung war is not possible at-least for Pakistan but there is a possibility of a pseudo war."
Why doesn't India backfire Pakistan after Uri attack?
I think, Because this is what happen always.If India lose 2–3 cricket match then our people are more angry than Uri incident.
We were treated like murderers or terrorists after 2007 World Cup: MS Dhoni – Daily News & Analysis – India Sports News Today
If people put pressure on politician; they will forced to take action but Modi knowsthat we will forget this incident after few days OR he may make fun of us & our Jawans by inviting ISI to investigate this attack like he did after attack in Pathankot.
Is India going to attack Pakistan after Uri incident?
Indian army is not declaring any war against Pakistan. Uri Terror Attack: India To Isolate Pakistan Diplomatically At International Forums
With the some important Source by Ramashis Sahoo : Pakistan must be diplomatically isolated at every international forum, it was decided today, said sources, at a meeting that Prime Minister Narendra Modi held with his most senior ministers to shape the government's response to Sunday's terror attack, in which 20 soldiers were killed at an Army base in Jammu and Kashmir's Uri.
Here are the latest developments in this big story:
India would present all actionable evidence if required at these forums, it was decided at the meeting, the sources said. Union Home Minister Rajnath Singh, Defence Minister Manohar Parrikar and Finance Minister Arun Jaitley attended. PM Modi also met President Pranab Mukherjee and briefed him on the attack and the government's deliberations.

"Pakistan's actions have gone beyond tolerance. India-Pakistan relations will never be the same again," said senior minister Ravi Shankar Prasad in a sense of the government's mood. "While Pakistan lives in a chronic state of denial, there is conclusive evidence of its role," in the Uri terror attack, the minister said.




Top sources said the government is clear that it must respond to the attack, with a calibrated, multi-layered strategy. India, the sources said, could raise the Uri attack at the United Nations General Assembly, which is in session in New York.

Later on Monday,

India delivered a strong message to Pakistan

at the UN Rights Council, asking it to clean house by dismantling terror infrastructure and stopping cross-border terrorism.
Four terrorists from Pakistan sneaked into the Uri base early on Sunday morning and

killed 17 soldiers before being shot dead in an intense three-hour gun battle

. An 18th soldier died of his injuries today.
Preliminary investigation into the attack points firmly to Pakistani links, sources said. Apart from weapons and food with Pakistani markings seized from the terrorists, GPS trackers that they carried showed they had started from Pakistan.




The Director General of Military Operations (DGMO) Lt General Ranbir Singh will hand over this evidence to his Pakistani counterpart as India takes up the matter strongly with Islamabad.

Pakistan has denied any links with the attackers

, calling it a "baseless and irresponsible accusation," in a statement today.

A National Investigation Agency or NIA team has reached Uri to investigate the attack. The Army is also investigating how the terrorists breached a three-layered, counter-infiltration grid to cross the border and also how they entered the Uri base.

The attack happened during a change of command at the base

between two regiments – 6 Bihar and 10 Dogra and such others regiments.

The bodies of the soldiers killed

, most of them from 6 Bihar, have been flown back to their homes.
Is Pakistan trying to decieve India on Balochistan issue by leading an Terror attack in Uri?
Yes, it looks that way. Not only Baluchistan issue, but the constant self inflicting wars and proxy wars started and encouraged by Pakistan aims as diverting India's attention and preventing it from a path of prosperity and growth.
One of the objective of Military Establishment in Pakistan seems to be to prevent growth of India as a superpower. Most of these wars(eg 1971 war and 1999 Kargil war) doesn't seems to aim at making Pakistan more secure or provide any other advantage to Pakistan. Their only target in keep engaging in these wars is to divert India's attention. Pakistani Military can maintain its supremacy in Pakistan as long as India-Pakistan issue is alive. The Democracy in Pakistan will gain back stronghold in a peaceful Pakistan.
What Should India do on Uri Attack?
1. Carrying out surgical strikes inside Pakistani territory : Pakistan is now backed by China and military intrusion by India can annoy both the neighbours. Moreover destroying terrorist camps in PoK and some nearby areas can handicap terrorist activities for few months to maximum of a year, but it is not a permanent solution. So when compared with return v/s risk, there is low return and high risk involved. Also the emanating source of this anti-India ideology has support from Pakistani Army and Political setup. I mean let's be practical; in no way can India carry out surgical strikes so deep inside Pakistan to eliminate Hafiz Saeed or Maulana Mazood Azhar. So this alternative is very unlikely to do permanent solution on the cross border terrorism problem.
2. Declaring Pakistan a terrorist state and putting financial bans on it : This one may sound feasible to you, only if you are high or live in dreamland! Okay jokes apart, the reason why this alternative is also not feasible is:
To put sanctions on Pakistan a resolution needs to be passed in the UN Security Council. If you are unaware of the permanent members then let me remind you of them. They are as follows:
1. Russia
2. France
3. United Kingdom
4. USA
5. China
While there is no problem with the 1st three countries, the last two will use their power of VETO to ensure there are no sanctions on Pakistan. You may wonder; China's love for Pakistan can be understood! But how can USA not put a ban on Pakistan after pouring love for India?
Let me explain this to you. First I will explain how Pakistan had been USA's lapdog for years.
USA spent around USD 35 million as foreign aid to Pakistan. The top 5 recipients include Pakistan. India has been constantly lodging its protest to USA that this fund is used by Pakistan to create unrest in India. Sounds strange, No?
No, it is not at all strange. The money that Pakistan receives as foreign aid from USA is used to buy weapons from US arm manufacturers. Recently USA sold 9 AH-1Z helicopters and F-16 fighter jets to Pakistan.
Thanking You
Best Regard's
Trilok Singh.